Campus
We are a mindfulness, movement & play based preschool with spacious rooms and limited furniture to allow for endless creativity and exploration. Children are not in a set "classroom" for the day but instead move between rooms based on activity.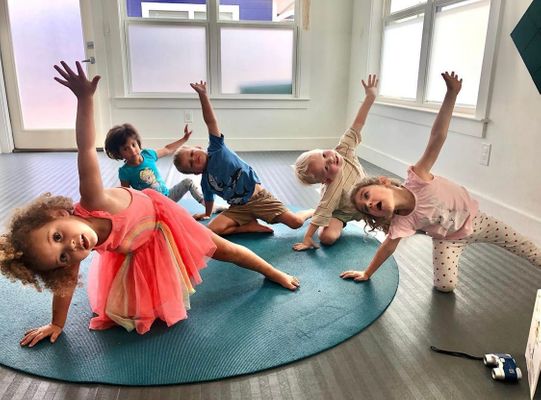 Om Base
This building is home to our Little Lotuses and Peacemakers. It features one large spacious room, Yogazone, used for yoga, meditation & movement. The second room is our Playshop where we explore our creativity through stations. The stations change daily and include dramatic play, science, block building , a magnet wall, books, kitchen play, musical instruments and more! Our third room, All the Feels, is our sensory room where we spend time tuning in to our feelings during social & emotional learning time and sensory play. Om Base also features an open concept arts & craft space and a kitchen.
Zen Den
The Zen Den is home to our littlest yogis! Our Mindful Minis spend their day moving through the magical three rooms in the building and private outdoor play space. The Creation Station is a multi-use space where we craft & create. The Imagination Station is a print rich environment that allows space for sensory exploration & creative play. The Mediation Station is used for playful & mindful movement and rest.
The Great Outdoors
The Great Outdoors is where we have our creative outdoor play and garden. We believe a playground is what you make of it. We do not have traditional playground equipment. Instead, we have big wooden cubes/blocks of varying sizes for the children to create a new and different playscape/city of their own each day. They are able to use gross motor skills to push, pull, and flip the blocks together and imagine they are in a spaceship or simply a bedroom. They can climb up, jump off, or walk across each block like it's a bridge to another world. There are endless possibilities when the imagination is at play. We also use an innovative playground equipment system called Imagination Playground to encourage further creative play.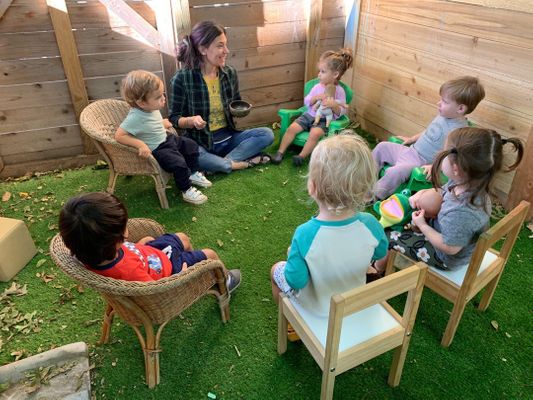 Mini Play Yard